Thapki Pyaar Ki Fame Jigyasa Singh Death Hoax: Jigyasa Singh became the victim of fake news of her death, She has been away from the TV industry for a long period which is why her fake death news went viral.
Thapki Pyaar Ki Fame Jigyasa Singh Death Hoax
Recently, Popular TV actress Jigyasa Singh gained attention on social media. The Thapki Pyaar Ki actress shared a screenshot of a YouTube video that falsely claimed she had passed away.
The screenshot showed videos with titles like 'Thapki Pyaar Ki actress passed away | Last video' and 'Actress Thapki has passed away – Shocking News.'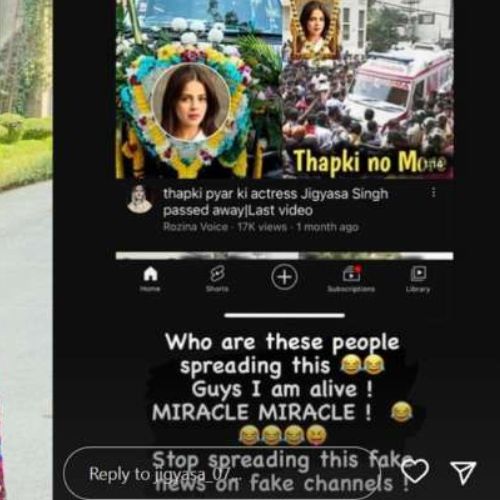 Reacting to those headers and news, the actress in her post, clarified that these videos were fake news and questioned the individuals spreading such false information. She wrote in the caption, "Who are these people spreading this? (laugh emoji) Guys, I am alive! MIRACLE MIRACLE! Stop spreading this fake news on fake channels."
Meanwhile, the actress has been away from showbiz for some time, and the news of her supposed death brought her back into the limelight.
These fake videos on social media platforms mentioned that she had died in a car accident.
Other Articles You May Like:
Kulhad Pizza Couple Leaked Video
Rina Palenkova Screaming Original Video
Bhojpuri Actress leaked Videos
For breaking news and live news updates, like us on Facebook or follow us on Twitter and Instagram, Telegram, Google News. Subscribe to us – All news Online News Channel
Get the Latest and Breaking News, Entertainment News, Technology News, Sports News Like Cricket, Government Jobs Alert, Government Results and Health & Fitness News here.