Happy Birthday Johnny Depp
Happy Birthday Johnny Depp: From Jack Sparrow in Pirates Of Carribean to JM Barrie in Finding Neverland, the actor has the ability to doing any role.
Take a look a some of his craziest faces from various Hollywood films as Johnny turns 54 this year.
Happy birthday Johnny Depp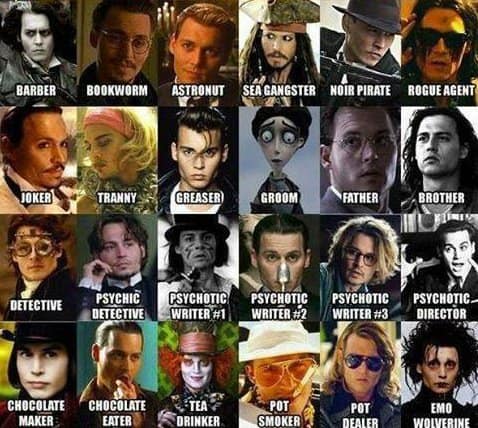 In the year 1984, Hollywood introduced us to Johnny Depp in Nightmare on Elm Street and then a new kind of cinema found it's inception in Hollywood.
With his versatile Acting performance, Johnny Depp has grown up to be one of the best and highest paid actors in the Hollywood film industry.
He may not have won the Oscars yet, but if we start to list all the moments when he touched our hearts, it would eventually turn into a book dedicated to the actor.
Johnny Depp Movies
Johnny Depp has given us some of Hollywood's most iconic roles in Pirates Of The Caribbean Series, Through The Looking Glass, Finding Neverland, Alice In Wonderland, Charlie And The Chocolate Factory and Sweeney Todd.
As he turns 54, take a look at some of his films, where he mastered his performance.
Johnny Depp As Jack Sparrow
Johnny Depp plays Jack Sparrow in the Pirates of the Caribbean series. Captain Jack Sparrow, is a selfish pirate who has made many mortal and immortal enemies.
Amidst all his goofiness, he knows his tricks well. That is exactly why he manages to keep his promises and escape from wild dangerous situations without anyone's assistance.
While doing so, he outwits his arch nemesis and walks away with all the treasures.
Johnny Depp Movies Trailers
Lets See Terrefic Performance of Johnny Depp Movies Here
Read More: Bollywood actor Irrfan Khan dies at 53
Get the Latest and Breaking News, Entertainment News, Technology News, Sports News Like Cricket, Government Jobs Alert, Government Results and Health & Fitness News here.