Top 5 Small Savings Ideas | Top 5 Personal Saving Ideas: In this article, we have covered how you can invest your hard-earned money.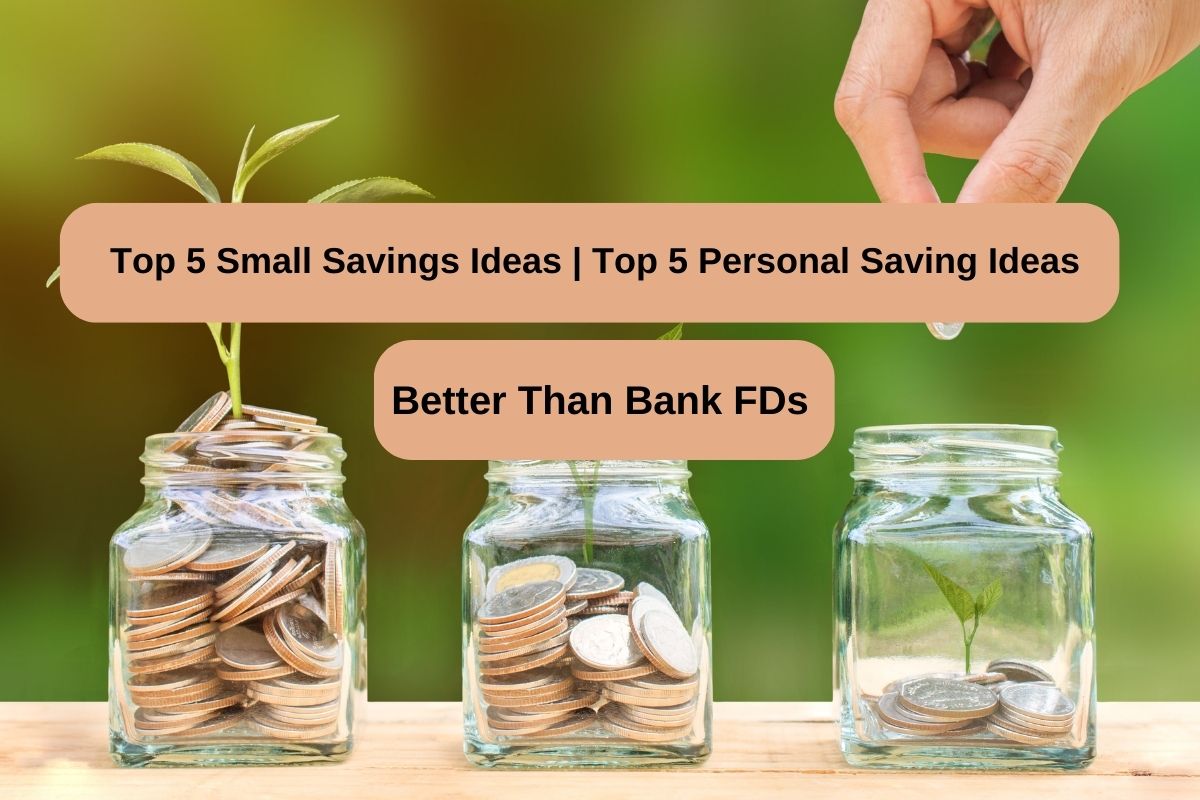 There is a total of 5 Government National Savings schemes you can invest your money with a good rate of interest without any tension.
This Government savings schemes work like a 'Brahmastra' that will never down your investment even when the entire markets crash.
These national savings schemes are under the Ministry of Finance, Government of India.
They come with a sovereign guarantee. Therefore, they are fully secured and safe.
Top 5 Small Savings Ideas | Top 5 Personal Saving Ideas
1. PPF- Public Provident Fund
PPF is the most favourable investment scheme for everyone.
There is no tax on PPF deposits up to Rs 1.5 lakh under Section 80C and interest earned and maturity amount are also exempted from tax.
Currently, the PPF scheme is offering an interest rate of 7.1%. Historically, PPF interest rates have remained higher than bank fixed deposits.
The most important thing about PPF is no one can touch or take your money without your permission if you facing any financial crisis and have heavy debt on you. Not even government can take your money.
What is the maturity period of PPF (Public Provident Fund)?
You have to invest money for a minimum of 15 years. You can withdraw your money after 15 Years.
2. Senior Citizen Savings Scheme (SCSS)
SCSS scheme is only for Senior citizens. SCSS scheme can help senior citizens who don't have a monthly pension or a monthly cash flow to fulfil their basic needs.
Senior citizens can deposit up to Rs 15 lakh in an SCSS account and earn quarterly interest as a pension, which can be withdrawn from a linked savings account.
The principal amount is returned to the investor after the completion of the maturity period, which he can use to reopen a new SCSS account or withdraw.
This scheme is best for retired people.
3. National Savings Certificate (NSC)
NSC is another national Savings scheme with guaranteed returns and several other benefits, including tax deduction under Section 80C of the Income Tax Act.
You can purchase NSCs for Min. 5 years. If invest wisely, you can also use NSC for regular monthly income.
4. Kisan Vikas Patra (KVP)
Kisan Vikas Patra is another popular gov. scheme that you can look at for guaranteed returns.
But tax benefits on KVP are not the same as PPF or NSC.
KVPs can help you double your money in just 124 months (10 years ). The current interest rate of KVP is 6.9%.
5. Sukanya Smriddhi Yojana (SSY)
If you are a parent and you have a girl then this gov. scheme is best for your daughter.
Sukanya Samriddhi Yojana helps parents save for their girl child's future.
The SSY account provides a healthy interest rate of 7.6% per annum which is 50% more interest than Bank FD (calculated on yearly basis and yearly compounded).
Apart from the better interest rate than bank FDs, deposits under the SSY scheme qualify for deduction under Section 80C.
Interest earned on SSY deposits is also free from tax.
Read this if want to know more about Sukanya Smriddhi Yojana
See Also:
Top 7 popular cryptocurrency exchanges in India With Low Fees
Top 10 Best Business Ideas After Lockdown In India 2022
For breaking news and live news updates, like us on Facebook or follow us on Twitter and Instagram, Google News. Subscribe to us – All news Online News Channel
Get the Latest and Breaking News, Entertainment News, Technology News, Sports News Like Cricket, Government Jobs Alert, Government Results and Health & Fitness News here.