Anveshi Jain Biography: 29-years-old Bollywood actress and super hot model Anveshi Jain has become a popular celebrity within a short time. After her debut as an actress in 2019, her fan following is insane. She has a big number of followers in her social media and turns out she was the most googled actresses from India for 2020.
Anveshi Jain Biography: Top 9 Secrets of Anveshi Jain You Must Know
Here are 9 things to know about the Anveshi Jain
In 2019, Anveshi Jain debuted with the second season of ALT Balaji's erotic series, "Gandii Baat". Later she was seen in other shows and movies like Who's Your Daddy, G the Film, and BOSS: Baap of Special Services. Check This also complete Anveshi Jain Movies List
Anveshi has been unofficially called the Most searched Bollywood actress of 2020 in Google.
She Born in Jain family in the Khajuraho, after that Anveshi Jain migrated to Mumbai with dreams of becoming an actress. She had dropped out of her MBA course before coming to Mumbai for becoming actress.
She is also a singer, a model, a host of shows. She hosted more than 100 shows including several corporate parties and events.
She is Electrical engineer and has a degree from Rajiv Gandhi Proudyogiki Vishwavidyalaya, Madhya Pradesh.
In June 2020, Anveshi launched a paid app that is "Anveshi Jain App". She posts videos and pictures of herself in the app which is became quite successful during the lockdown in 2020. You can watch on Anveshi Jain App Videos and Anveshi Jain App Download (Official)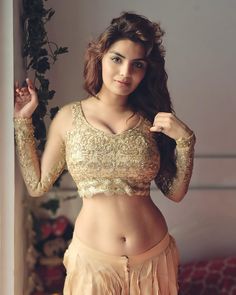 She has more than 3.8 million followers on her Instagram Official account.
She Played the role of a sexologist in an Telugu film. Talking about women and desire, Anveshi Jain ridiculed society for making assumptions about who who talk about female pleasure. They are "considered as easily available," she said once in an interview.
Anveshi has a dream to be listed in Forbes Magazine as most influential women of India.
Check Out Some Anveshi Jain App Videos Here
For breaking news and live news updates, like us on Facebook or follow us on Twitter and Instagram, Google News. Subscribe us – All news Online News Channel