Raiza wilson Beauty Treatment: Tamil actor Raiza Wilson shared a picture of her face after she was allegedly 'forced' to undergo an unnecessary dermatological procedure. She claimed that the doctor was now unreachable.
Tamil actor Raiza Wilson angry on a dermatologist on social media after being 'forced' to undergo a treatment that she 'did not need'. The procedure went wrong and left her with a swelling under her eye.
Tamil Actress Raiza wilson Beauty Treatment Goes Horrible
Raiza took to Instagram to name and shame the doctor. Sharing a picture of her face after the treatment, she wrote, "Visited @drbhairavisenthil yesterday for a simple facial treatment, she forced me to do a procedure which I did not need, and this is the result."
According to Raiza, the dermatologist is now avoiding her. "She refused to meet me or talk to me today. Staff said she's out of town," she wrote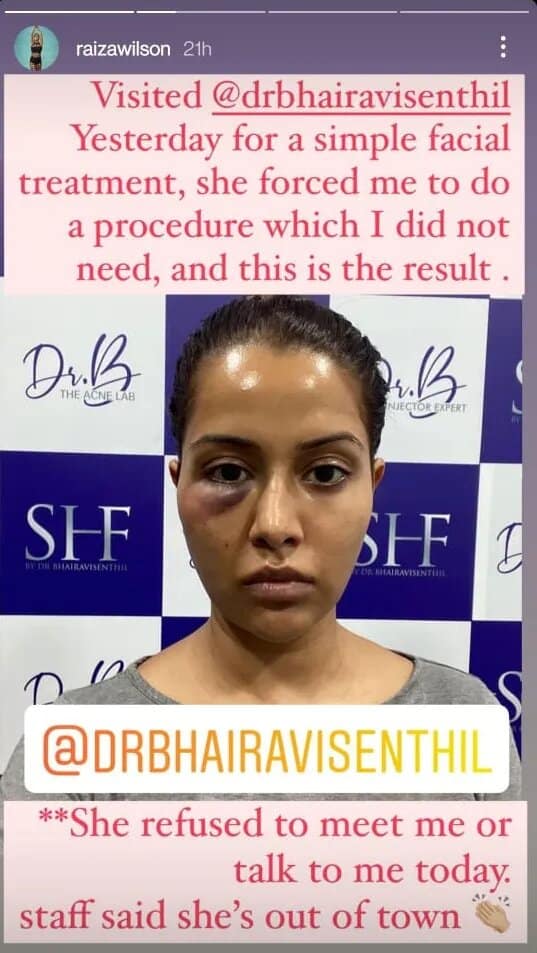 In 2018, Raiza played the lead role in Pyaar Prema Kaadhal, in which she was paired opposite another Bigg Boss Tamil contestant Harish Kalyan. She won the Filmfare Award for Best Female Debut – South for her performance in the film.
Currently, Raiza has a number of films including Alice, Kadhalikka Yarumillai and Hashtag Love.
Read Also: After Paris Hilton Sex Tape Leaked, She cried every single night and left her in PTSD
For breaking news and live news updates, like us on Facebook or follow us on Twitter and Instagram, Google News. Subscribe us – All news Online News Channel